Michaela's cakes: mango muffins
In my novel, The Yellow Dinghy Cafe, Michaela makes gluten-free cakes for customers with Coeliac disease. Here is one of her creations, which you might enjoy.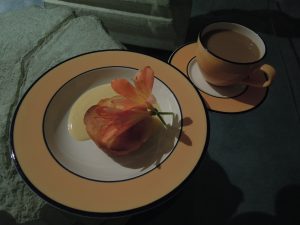 Mango Muffins
Ingredients:
1 cup of chopped mango (tinned or fresh)
1/2 cup of mango juice
1 packet of gluten-free vanilla cake mix
1/2 cup of vegetable oil
3 eggs
Method:
Combine cake mix with mango juice and oil
Mix in the eggs
Chop up mango and stir in gently
Put cake mix into greased muffin moulds
Bake until muffins spring back when touched and are slightly browned on top
Serve with cream, custard or on their own and garnish with flowers if you like!